At the end of this month it will soon be two years since I caught myself on fire at my work shop. I am still not very comfortable to go there alone. Healing takes some time, the scars are faded but when I turn on my torch I am no longer fearless.
Below is a photo of the shirt I was wearing two years ago in June. It was hot out and I had my leather apron covering a piece of art to protect it from the sparks.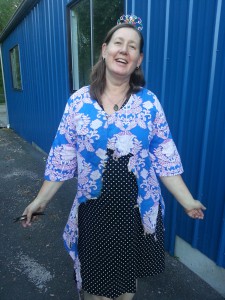 Instead of working in my shop this past year I have been spending more time with friends. In the below photo: taken this past week, I am with my friend Laura. Just two years ago Laura had a double brain aneurysm and a stroke. She really understands the healing process. She spent a month in intensive care and has had to learn how to do everything from scratch! When I am out with her I find that I am more aware of how clueless people are. They look at her as if she were a normal healthy lady. When we are out together only her and I know how hard she is working to walk the trail with me.
"There are no shortcuts to any place worth going."
– Beverly Sills
About Beverly Sills
Beverly Sills, the talented American opera coloratura, became an international superstar in 1966 with her performance in Handel's Guilio Cesare. She was born Belle Miriam Silverman in 1929 in New York. The New York City Opera rejected her repeatedly before they hired her in 1955. She left singing briefly in the 1960's to devote herself to her young children: One is largely deaf, the other is mentally retarded. After retirement, she took the reins of the New York City Opera, turning it into a viable operation. Sills died of lung cancer in 2007 at the age of 78.