I had not painted in awhile and I was inspired last night by the sunset and low moving fog.
Dusk, 16 x 20 acrylic on canvas Holiday Special $40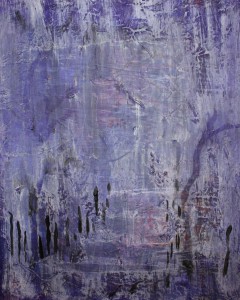 "A good painting to me has always been like a friend. It keeps me company, comforts and inspires."
-Hedy Lamarr was an Austrian and American film actress and inventor. After an early and brief film career in Germany, which included a controversial love-making scene in the film Ecstasy, she fled her husband and secretly moved to Paris.
At the beginning of World War II, keen to aid the Allied war effort, Lamarr identified jamming of Allied radio communications by the Axis as a particular problem, and with composer George Antheil, developed spread spectrum and frequency hopping technology to defeat it. Though the US Navy did not adopt the technology until the 1960s, the principles of her work are now incorporated into modern Wi-Fi, CDMA and Bluetooth technology, and this work led to her being inducted into the National Inventors Hall of Fame in 2014.