A few days ago I painted a horse, took a photo of it and posted the photo online. Seconds later I decided I was not liking the way it turned out so I created a new painting on top of the horse. For some strange reason the painted horse got more likes than any other paintings I have done. I feel a bit sad that I only let it live for a minute.
Tonight I decided to try again so here are three new painted horses.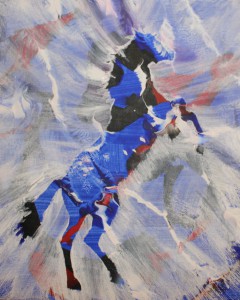 12 x 12 Acrylic on Canvas $30 each.
Today's Quote
"Luck is the by-product of busting your fanny."
– Don Sutton
About Don Sutton
American Major League baseball player Don Sutton, never a flashy player, was inducted into the Baseball Hall of Fame after an amazingly consistent winning career as a pitcher. He was born in Alabama in 1945, and broke into the big leagues at age 21. By the time he retired in 1988, he had won 324 games, recorded more than 3,500 strikeouts, racked up a record 21 consecutive 100-plus strikeout seasons, and never missed his turn in the pitching rotation. He is now a TV announcer for the Washington Nationals.