I used to dream of having my own bed and breakfast up in the mountains.  I especially love to cook breakfast.  Since following instructions has never been my strong suit over the years I have created many of my own recipes. I recently shared a few of my favorites on facebook and people liked them so I  thought I would add a recipe section here. These are easy and fairly quick recipes that can be fun to cook with your children or grandchildren. If you  try one send me a photo to share or comment to let me know  how it turned out. Enjoy!
Rhubarb Nut Bread
Ingredients:
1-1/2 cup brown sugar
2/3 cup vegetable Oil
1 egg, beaten
1 cup buttermilk
1 tsp baking soda
1 tsp salt
1 tsp vanilla
2-1/2 cups flour
1-1/2 cup rhubarb cut into small pieces
1/2 cup chopped walnuts
Topping
1 Tbs butter 1/3 cup sugar
Instructions:
Preheat Oven to 350 degrees. combine brown sugar, oil, and beaten egg . In a small bowl mix together milk,baking soda,salt and vanilla. Add milk mixture to sugar mixture alternately with flour,beating well after each addition Fold in rhubarb and nuts turn into 2 greased and floured 8'x4x3 loaf pans. Mix topping ingredients and sprinkle on top of loaves, Bake about one hour or until toothpick inserted in center of bread comes out clean. Servies 10-12
Irish Scones                                                                         
3 cups flour                      ¾ cup sugar
2 tsp baking powder         1 tsp salt
1 1/3 cup milk                    1 egg slightly beaten
¾ cup butter melted        1 1/2 cup  raisins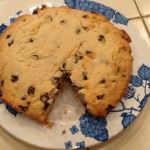 Instructions
Preheat oven to 325 degrees. Mix dry ingredients together.  Very slowly pour in milk, egg and cooled butter. Fold in raisins.  Bake in a greased and floured 9 x 5  x  2  baking dish.  Cut into squares and serve with butter, cream cheese or preserves.
I used a small  round pan and  cut them into triangles .
Great Grandma Mabel's English Scones
Ingredients:
2 cups  flour                             4 Tbs sugar
1/2 tsp salt                               2 tsp baking powder
6 Tbs butter                             2 eggs
1/2  cup  sour cream              1/2 tsp vanilla
Instructions:
Preheat  oven to  375  degrees. Lightly butter a baking sheet. Sift flour into a bowl with sugar, salt and baking powder. Add the  butter and work your fingers until the mixture resembles coarse meal.  Combine the eggs, cream  and vanilla in a bowl. Add to the flour mixture and  stir until moistened,  Flour  your hands well. Working quickly , lightly pat the  dough into a 8′ round. With a  sharp knife , score the round into eight wedges. (Dough can also be rolled and cut into  biscuit shapes.)  Place on the baking sheet and bake for about 20 minutes until  the top is browned and a toothpick inserted in the center comes out clean. remove scones to a wire rack and cool for a few minutes. Cut along the  score marks and  serve warm with  butter,  preserves or clotted  cream.
makes 8  scones
The last time I  made scones I was in a rush to  serve them so  I  cut them  before  baking and they turned out  fine. For those of who want to make clotted  cream for your scones here you  go. http://www.wikihow.com/Make-Clotted-Cream
Freese pancakes
Ingredients;
3  eggs                                               1/2  cup butter, melted
3/4  cups milk                                      juice of 1/2  a lemon
3/4 cups all purpose  flour                  confectioners' sugar
1/2 tsp salt
Instructions:
Preheat  oven to 450 degrees. beat  the eggs and milk until they are well blended. Add flour and salt, stirring the batter until it is slightly lumpy.
Set  10′ pie  plate in the  oven to melt the  butter. when the butter is very hot , pour in the  batter and bake for about twenty  minutes or  until the pancake is brown and  puffed. sprinkle with lemon juice and confectioners sugar and  cut into wedges.
Serve immediately as it will deflate quickly.
Serves 4
Butter
As a kid I made Butter in a Jar it was very easy and just took some time.
Ingredients:
Heavy  whipping Cream  – any amount 6 cups makes about 1 pound of butter
1/2 teaspoon per pound of butter- optional, used for preserving butter
Jar  with lid, any size, baby food jars are great for kids to make it with.
Some  people  like to  put a  clean marble in the jar and when the marble gets  quite you  know its starting to thicken. Just don't forget to  remove the marble when you are done,
Have the children shake the jar. A figure-eight motion seems to work best, but let your kids go wild (not so much, if the jar is glass). If you have a plastic container with a tight lid, you can even roll it back and forth.
Pour Heavy Whipping Cream into jars no more then 3/4 the way full. It is best to leave room for the shaking and turning action. Next begin shaking! And Shake and Shake. Some music to shake too makes it fun for the kids and helps pass time. Something with a fun and quick beat. The best way I figured to shake the jar was to hold it length wise in my hands with the lid in my palms and the base of the jar wedge in my forearms.
It takes about 5 minutes before you notice a thickening forming in the jar. This heaviness is the beginning of the fat changing and sticking together. At this point you really just have a thick whip cream in the jar. Keep shaking.
As another 5-10 minutes pass you will notice the jar filling with the foamy cream.  It feels as if there is no room in the jar as the thick Heavy Cream is aerated even more with the shaking, but keep shaking. It will look like this:
Breakfast Sausage &Apples
Ingredients
2 lbs sausage link
1/4 cup brown sugar
2 large tart apples , peeled cored and sliced
1/3 cup water
1 large chopped onion
Instructions:
Brown Sausages. remove form heat and drain drippings.
Mix remaining ingredients and cook for 8-10 minutes.
Stir in Sausage and continue to simmer until ready to serve.
Glaze thickens as it cooks and coats the sausage.
Serves 8-10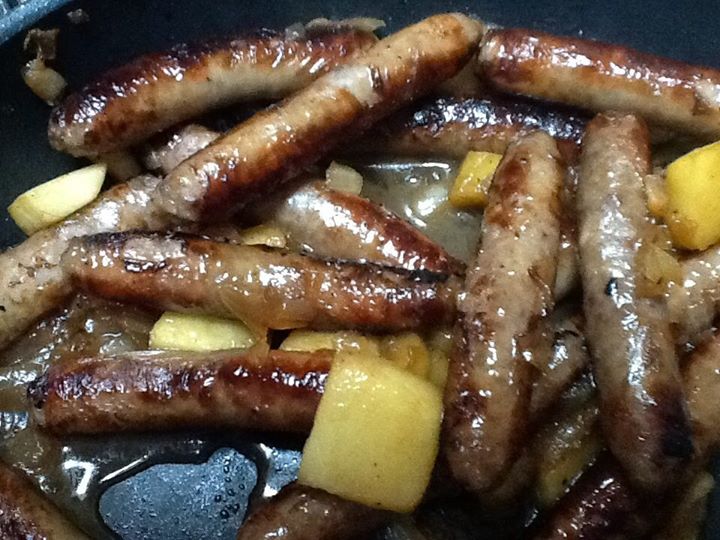 Pear Mango Bread
Ingredients:
1/4  cup butter , melted                1 cup Mango
2 tsp baking powder                     2  large eggs
2 1/2 cups all purpose flour         1/2 tsp salt
1/2 cup sugar
16  ounce can  pears , drained and chopped (if you have fresh pears that is even better)
Instructions
Preheat oven to  375 degrees.
In a bowl , sift together the flour , baking powder and salt.
In a large bowl , mix together the melted butter, mango nectar and sugar,
Beat with an  electric mixer until the sugar dissolves.
while beating , add eggs one at a time.
Add the flour  mixture and thoroughly blend with a wooden spoon,
Stir in chopped pears/ Pour into a greased and floured  loaf dish.
Bake 40-45 minutes or until a  toothpick inserted in the center comes out clean.
Auntie Cynthia's cranberry orange bread
Ingredients
1 orange                                              2  Tbs cold butter1 large egg
1 cup chopped cranberries                 1 large egg
1/2  tsp salt                                          2 cups flour
1 -1/2  tsp baking powder                    1/2 tsp baking soda
1 cup sugar
1  cup  chopped pecans  ( if you desire)
Instructions :
Preheat  oven to  350 degrees.
Using a  sharp knife scrape the  colored rind from the orange and mix it with the  cranberries.  Squeeze the  juice of the o0range into a  measuring cup and  add enough water to  make 3/4  cup. Beat the  egg and add it to the juice.  Mix together the flour , salt, baking powder, soda and  sugar ion a  large bowl.  Cut the  butter into the  dry ingredients , mixing with two knives until  crumbly.
Pour the juice into the  dry  ingredients and stir just until  combined.  Gently  fold in the cranberries and nut.  Pour the  batter into a 9 x5 loaf pan.bake for 45  -50 minutes or until a  toothpick inserted in the  center comes out clean. Let cool  10 minutes in the pan and  then remove from the pan and  cool  completely.
serves 6-8
XOXO
Love  Auntie Cynthia
Banana Chocolate Chip Muffins
Ingredients
2  extra ripe bananas                                         2  eggs
1 cup packed brown sugar                                1/2  cup melted butter
1 tsp vanilla                                                        2 1/4  cups  flour
2 tsp baking powder                                          1.2 cup walnuts  chopped ( optional)
1 tsp  cinnamon                                                 1/2  tsp salt
1 cup  mini  chocolate chips  (  sometimes use normal or  large ones )
Instructions
Preheat  oven to  350  degrees
Peel bananas and  mash to make one cup. (The riper the  bananas , the better the flavor.)
in a bowl  , beat the mashed bananas, egg, sugar , butter and  vanilla until well blended .
In a  larger bowl , combine  flour , baking powder, cinnamon  and salt.
Stir in chocolate chips  and nuts.
Make a well in the center of the dry ingredients.  Pour in the  banana mixture.
Mix until just blended.  Spoon into greased  and  floured  muffin pans.
Bake for 25-30 minutes
Makes  12- nice large  muffins.
Morning Eggs my way! 
 Ingredients:
6 Tbs melted butter
6 Tbs flour
2  1/2 cups light cream
2 Tbs mustard
2 cups grated cheddar cheese
1 Tbs worcestershire sauce
1/2 cup white wine
3 toasted english Muffins
6 eggs poached
6 slices Canadian bacon, boiled
6 tomato slices
salt and pepper to  taste
Instructions:
Combine Flour and butter in a pot over low heat. IN a  separate sauce pan heat but do not boil cream,  Gradually add cream to flour mixture.  Stir mustard , worcestershire , wine,  salt and pepper.
 set aside
 Place slice of Canadian bacon on 1/2 of an english muffin.  Place  tomato on top of bacon  and an  egg on top of the tomato. Top with the Morning my  way  sauce  that you you  set  aside.
 Serves 3
Grape Bread- This recipe is for my friends in Prosser!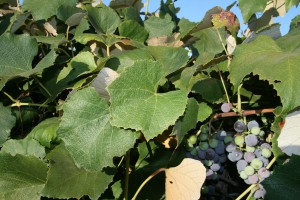 Ingredients:
3 large eggs
2 tsp vanilla
1 cup oil
3 cups flour
3 cups seeded Concord grapes
3 cups brown sugar
1 tsp cinnamon
1 tsp salt 3/4 tsp baking soda
¾ cup chopped walnuts
Instructions:
Preheat oven to 325 degrees. Beat eggs, sugar, oil and vanilla until light in color. Mix dry ingredients together and fold the dry mixture into the egg mixture until moist.  Do not beat!
Gently fold in grape skins and nuts.  Pour into two greased and floured pans.
Bake for one hour or until it tests done in the center with a toothpick. Gently remove from pans and cool.
Makes 2 loaves
Eggs Issaquah
Ingredients
4  eggs                                             2  Tbs  melted  butter
1/2  cup  cream                                 1/2 tsp pepper
pinch of cayenne                               2 tbs grated cheddar  cheese
2  toasted english  muffins                6  slices of  crisp  bacon
Instructions
Melt  Butter with Cream in skillet.  ad  eggs and sprinkle with pepper and  cayenne. when egg whites begin to set , sprinkle with cheese. Finish cooking and place on English muffin half with some of the  hot cream and  butter.  Serve with bacon slices.
serves 2