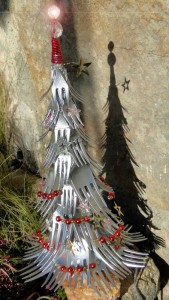 All you need to make this lovely center piece: plastic forks,  scissors,  hot glue,  spray paint and a poster board.   this can also be done with  plastic spoons.
Make a cone out of the poster board, I like to stuff mine with paper to help it keep its shape and to keep it sturdy.  I also  hot glue cardboard on the bottom of the cone to  keep everything stable.
Cut the handles off the  forks.
Starting from the  bottom hot glue forks to the cone. Continue working  your way around the cone  up to the  spray paint finished tree when paint is dry  decorate as you  wish!
For the people who love to paint.  This little fork  Santa is  something I started making in 4th or 5th  grade to  sell at holiday  bazaars to earn money for holiday gifts.