Just a few more days left of our group  show "The Gift" at Columbia  Winery in Woodinville. Tonight I was out at the winery with friends and fellow  artist  Sheryl Brown  we were  talking to  members about art.   We had a great time , great wine, great conversation and we even danced a  little.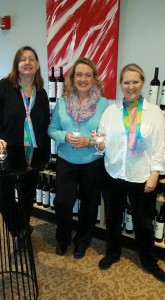 From  left to right , me , Donna Hager and artist  Sheryl Brown.  We are standing in front of  one of Sheryl's pieces.
This  show has  been pretty awesome for sales, 6 pieces  have sold and I had a few more bites tonight!
I am super excited to get working on  next years show!
Today's Quote
"The great challenge of adulthood is holding on to your idealism after you lose your innocence."
– Bruce Springsteen
About Bruce Springsteen
Bruce Springsteen, the American rock star known as The Boss, was famously called the future of rock and roll by rock critic Jon Landau in 1974, who later became his manager. He was born on September 23, 1949 in New Jersey. Seen as Dylanesque early in his career, he became associated with his blue-collar roots, writing songs about regular people on such albums as Born in the USA and The Rising. Springsteen, who is still recording and touring, lives in New Jersey with his second wife, band member Patty Scialfa, and their three children.