Sundance is finally finished and I decided to  take him  out for a ride.

 First stop was out was to  see our friends at  VineHeart Winery!
 Then we flew over to see our friends at Whitstran Brewery, to watch the  game and have a  steamy cream beer! Go San Diego!
then we flew over to visit Carol,at the  art  gallery.
After leaving the  gallery we  flew east  to Heavens Cave Celllars,  they  were  closed but when they saw us outside we were invited in to have some wine.
Wonderful  wine  but this bird wanted to  try  something a  bit  stronger!  So ….
We  flapped our wings  and  headed next door.. the brandy was  exceptional!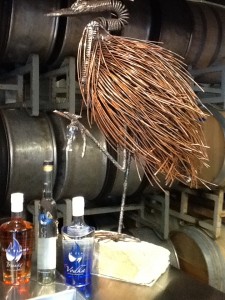 Our last stop was at our new friends  Brad and Coral Studer , where  Sundance  got some real special treatment.  He had a fantastic photo  shoot  I  can't want to see the  photos!
Thanks to Vineheart Winery, Whitstran  Brewery, Sixth Street Art Gallery, Blue Flame Spirits and the  Studer's for a making the first trip out of the  nest  memorable