"I am always doing that which I can not do, in order that I may learn how to do it."
– Pablo Picasso
About Pablo Picasso
Pablo Picasso, the Spanish painter at the forefront of Cubism, is perhaps best known for his painting Guernica, which depicts the hopelessness and violence of war. The masterpiece hung in the Museum of Modern Art in New York until democracy was restored in Spain; the painting was then sent home, where it hangs now at Reina Sofí a, Spain's national museum of modern art. Born in Spain in 1881, Picasso spent his adult life in France. Although he's known for his abstract paintings, his realistic work, particularly his Blue Period, was equally accomplished. He loved to be surrounded by friends and had multiple love affairs. He died in 1973
I love to try new things especially if it is something I am told I cannot do, or that it just wont work. I was super excited to see that Pablo Picasso also did what he could not do in order to learn how to do something.
I spent a good part of the day making some more baby bibs! I am finding sewing to be relaxing and fun.
Today's fun fabrics show support for my favorite sport and myfavorite team! GO Seattle Sounders!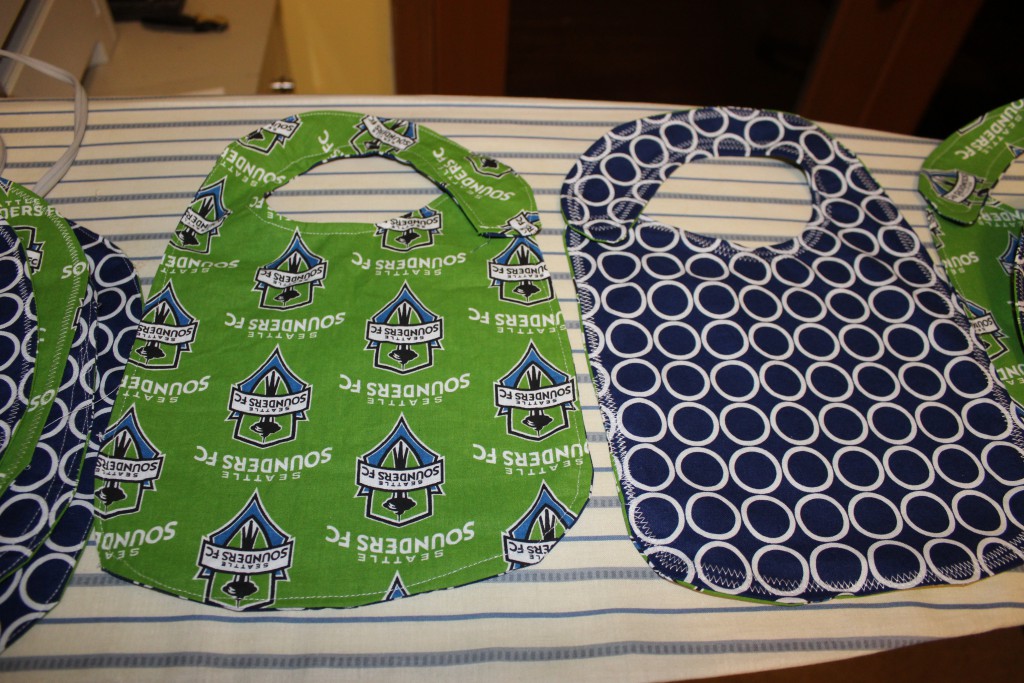 Bibs prices are between $7-$15 plus tax and shipping fees.
These are reversible: