Our Sky's The Limit art show opened at Columbia Winery on the 5th of January with our kickoff party on the 8th. The place was packed!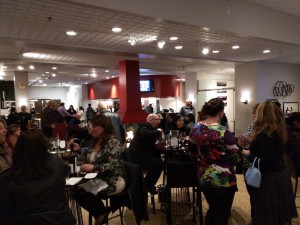 People were tasting wine and having wonderful conversations!

Artists were onsite and were giving tours, and art was sold!


The show is open until March 30,2016,we move out on March 31st!
Between now and then if anyone wants a private tour with a complementary wine tasting just give me a shout!
art@cynthiafreese.com cell 425 533 5973

Special Thanks to my great group of artists, Margaret Van Duine, Scott Kranz and his wife Jill, Craig Wellbrock,Judy Salas,Ricco DiStefano,Carol Ross,Ken Vensel,Greg Barto & Debbie Drllevich from The Green River Community College Welders. Extra special thanks to all our wonderful guests who made the trek out on cold winter night to support the arts!
Today's Quote
"A man can do only what he can do. But if he does that each day he can sleep at night and do it again the next day."
– Albert Schweitzer
About Albert Schweitzer
Albert Schweitzer, the German medical missionary, won the 1952 Nobel Peace Prize for his humanitarian work at a hospital in French Equatorial Africa, where he treated and operated on thousands of people, including hundreds of people afflicted with leprosy. He was also an organist, famous for his interpretation of J.S. Bach's music. Late in life, he worked with Albert Einstein and Bertrand Russell against nuclear proliferation. He was born in 1875 in Kaysersberg and died in 1965.