Thanks to my friend Anette  I ended up taking an  unexpected trip down memory lane today. We drove to Steilacoom and looked at my great grandparents old place along with my Uncle Chet's old house which still has the green lantern sign out front. In looking for a photo I found a fun bit of history about the  place so I have  linked to it above.) The bridge  down to the old boat house was stacked up on the middle of the street so we were unable to access my  first secret childhood beach.  We left and  ventured down to Sunnyside beach to sit in the spot where I  sat with my dads father aka my grandfather. My Grandfather had retired and taken a job as a  park care taker, he had a small trailer that sat where there  is now a lovely piece of art. I  loved spending  summers between  his house and his mothers house!
   So much had changed  but so much was still the same. This little spot of beach is where we learned to  swim  in order to  be allowed to  learn to water ski. Grandpa made us swim 300 yards!  Burrrrrrrrr!
Anettte and I sat and watched the ferries go to and from Anderson and McNeil Island.It was hard to believe how wonder it was for a late October day. I shared the  stories of hoe my  uncle Kenny used to  let us kids ride  the ferry for free if we would sing him a song.
and just like old times when the trains went by we waved!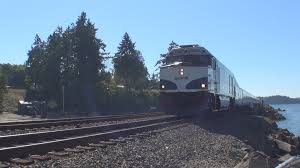 On the way home we admired the  handy rock work around Western State hospital that was done by yet another of my great uncles. I  charged the  stories of  my grandfather walking down the  beach and dropping fire crackers so the  girls would jump up. At the time I did not know he was hoping to  get a glimpse of their titties.   
I love where I am from and where I live.