As person who loves crafts , creating art and mixing up mediums I tend to turn my home  office into a  garage/ storage unit / work space and over all catch all.  Every few months I have to  go through  my  space and try to make sense of the things I have collected. As I  sit at my computer I swiveled my chair around and took three photos.  Oh dear, It was so nice and  tidy  just a few weeks ago!
I  hang new work where ever I can find a free spot. ( usually crooked )
New  work in progress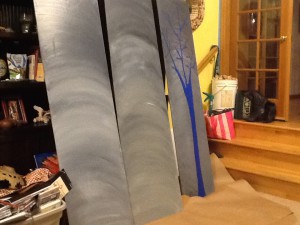 sewing station / is shared with painting station
I  did  spend  about  20  minutes cleaning my metal shop today and then I  decided that was enough and went out to  breakfast with a friend.
I am  open to  suggestions on  how other artists stay organized ?