This past week started out pretty crappy. I got off work at 2PM and decided to go get estimates for some paint repair on my van as the rear bumper is all scrapped up. After stopping at 2 places my shop landlord told me where to go for a good deal and quality work. he told me who to ask for, and I was told to tell them Joe sent me and to give me an awesome deal. The owner offer me an awesome deal and on the way out of his parking lot I hit an effing fire hydrant! The hydrant is okay but my front bumper now needs to be replaced. The front bumper will be more than the highest estimate for the rear bumper. ;-( I am wishing I had traded the van in when I bought the truck.pretty good note.
On a happy note two more paintings have gone off to live in Federal Way WA.

Yesterday on my way into to my day job I spotted some Super Heroes outside the Issaquah Court house! What a perfect way to end the work week!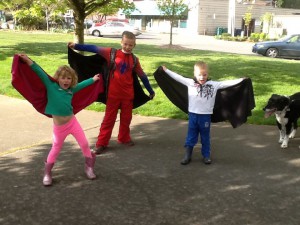 Today's Quote
"We cannot live for ourselves alone. Our lives are connected by a thousand invisible threads, and along these sympathetic fibers, our actions run as causes and return to us as results."
– Herman Melville
About Herman Melville
American author Herman Melville is best known for his epic whaling novel, Moby-Dick, which wasn't recognized as a masterpiece until after his death. He was born in New York on August 1, 1819. At age 20, he went to sea on a whaling ship. His seafaring adventures included time with cannibals in the Marquesas Islands, the basis for his successful novel Typee. His later, more philosophical, novels were not as well received as his early adventure yarns, and he died in obscurity on September 28, 1891.